---
Explore other Font Generators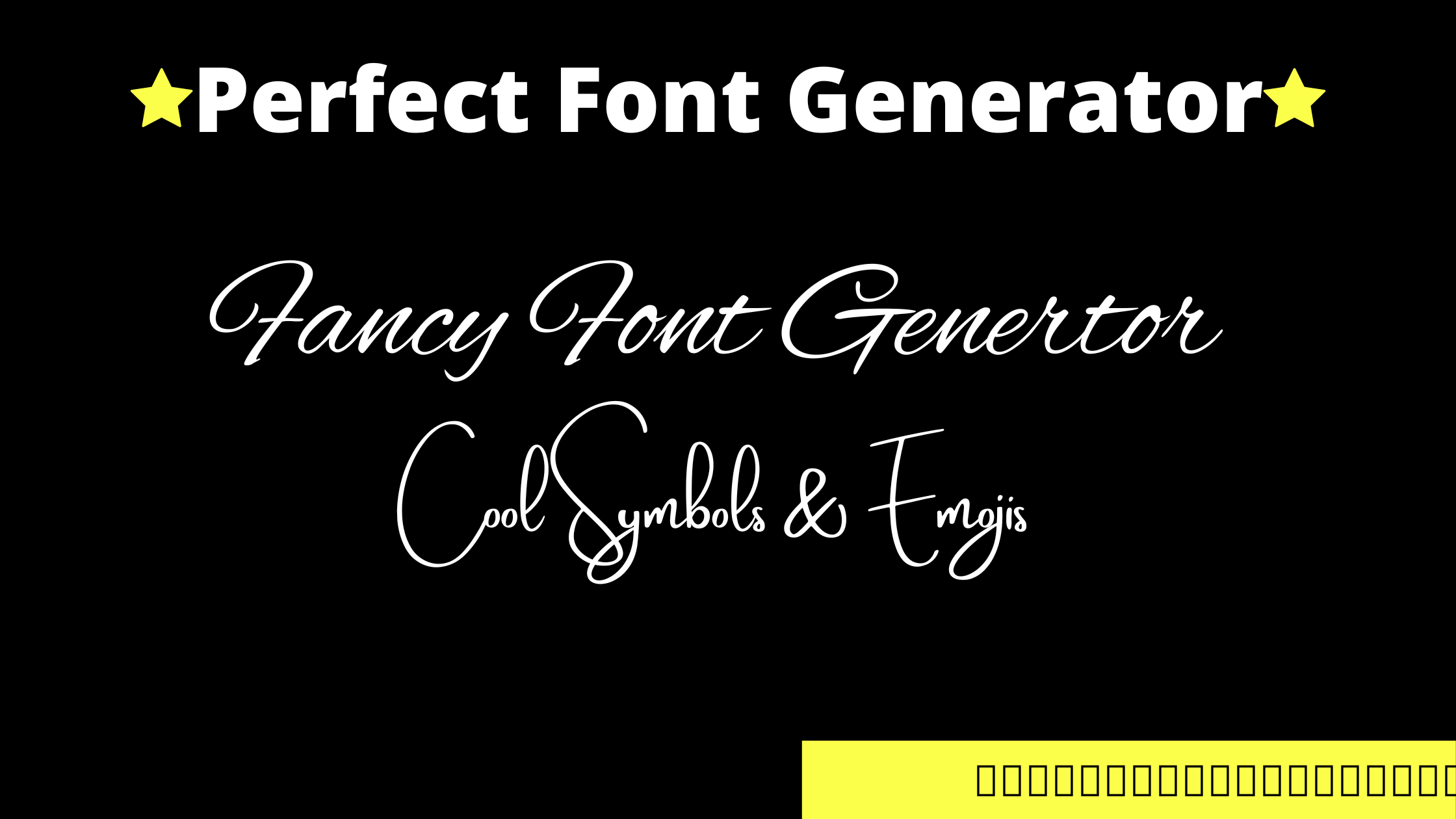 Fancy Font Generator With Cool Symbols & Emojis - Online Copy Paste Tool
A fancy font generator will convert your plain font text into fancy font text that you can use on your social media & gaming profiles. The font generator has 90+ fancy font styles and a wide range of cool symbols, icons, and emoticons. These fancy font styles are 100% compatible with almost all popular social media & gaming platforms. The fancy text generator has many popular fancy font styles such as StrikeThrough, Underline, SlashThrough, HeartsBetween, Firework, KirbyHug, Inverted Squares, Cursive, old English, wide text, etc.
You can combine letters from different fancy font styles and symbols, you can create unique fancy text or nickname that you can use on your video game or social media username/nickname. There is a clickable button to generate unlimited fancy font styles along with different symbols, icons, emoticons, and emojis.
Depending on your needs, you can find many popular fancy font styles from this tool for absolutely free. You just have to type or paste text in the input box and the tool will return you with converted fancy text along with different symbols & emojis.
Fancy Fonts for Social Media Profiles
These fancy fonts are 100% compatible with all popular social media apps & websites, So don't have to worry about platform dependencies. You can use these fancy texts on your social media profile title, bio/description, posts, messages/chats, comments, stories, and thumbnails. Here are our Fancy Font Generators for different social media platforms:
Snapchat Font Generator
Twitter Font Generator
TikTok Font Generator
YouTube Font Generator
Pinterest Font Generator
Tinder Font Generator
Twitch Font Generator
WhatsApp Font Generator
LinkedIn Font Generator
Tumblr Font Generator
Viber Font Generator
Wattpad Font Generator
Wechat Font Generator
Netflix Font Generator
Spotify Font Generator
Telegram Font Generator
Clubhouse Font Generator
Discord Font Generator
Facebook Stylish Name Generator
Stylish Fonts For Instagram
Fancy fonts for Video Game Nicknames
You are also allowed to use these fancy fonts and different symbols & emoticons in your video game username or nickname. You can accumulate letters from multiple fancy fonts and insert symbols to make unique & appealing nicknames. Here are our Fancy font generator for different video games:
Pubg Stylish Name Generator
Clash of Clans Name Generator
Call of Duty Name Generator
Fortnite User Name Generator
Minecraft Font Text Generator
Animal Crossing Font Generator
Cyberpunk Font Generator
Death Note Font Generator
GTA Font Generator
ML Name Font Generator
Free Fire Name Generator
Among Us Font Generator
Apex Legends Name Generator
CS GO Name Generator
Free Fire Font Generator
Fortnite Font Generator
Overwatch Name Generator
Undertale Font Generator
Valorant Name Generator
Clash Royale Name Generator
Crossout Name Generator
Fall Guys Name Generator
LoL Stylish Name Generator
Monster Hunter Name Generator
Pokemon Name Generator
Roblox Name Generator
Super Mario Name Generator
WoW Stylish Name Generator
How To Use Fancy Font Generator?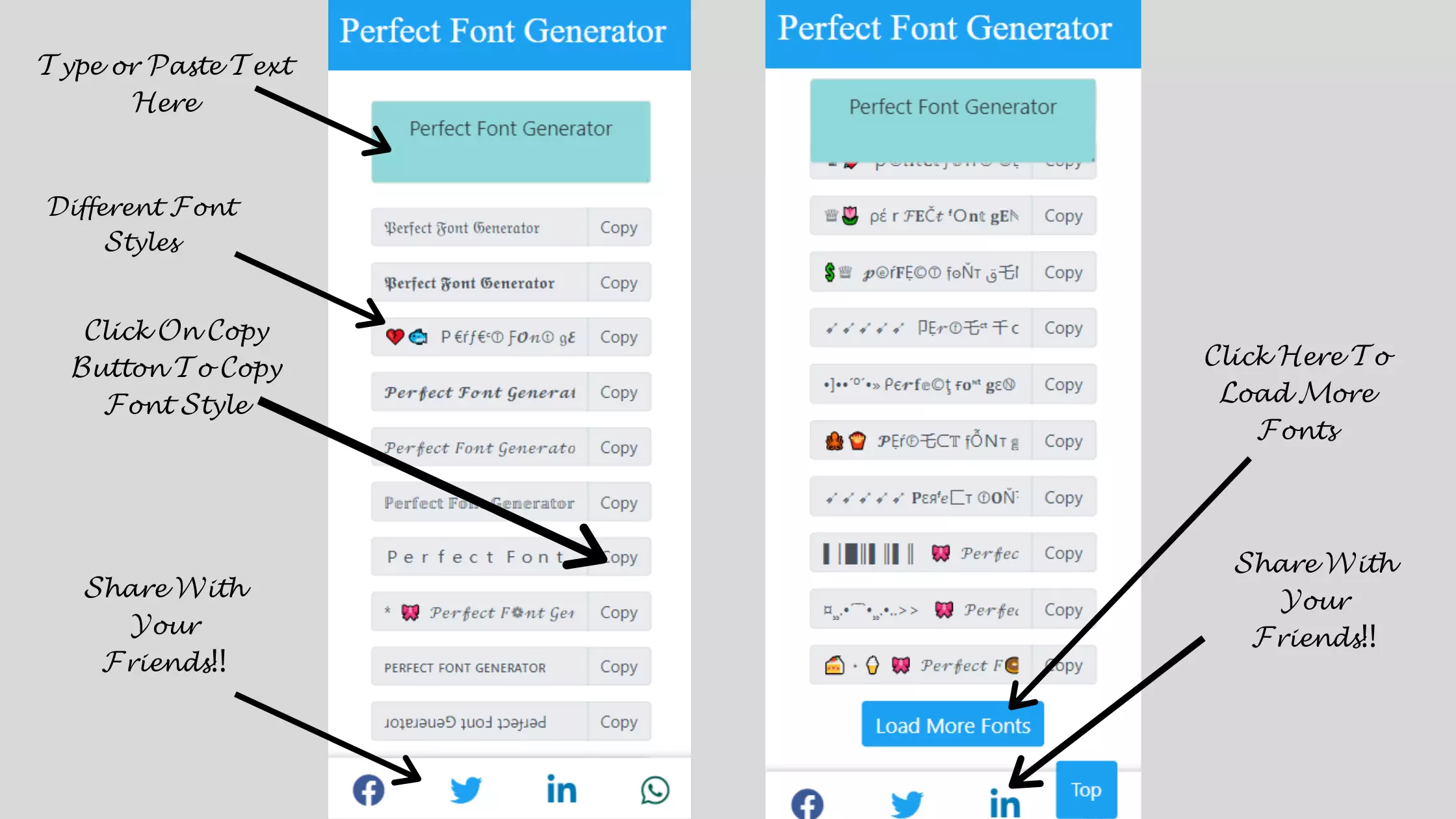 Step #1: Simply paste or type your text in the input box located at the top
Step #2: The Fancy Font Generator will automatically converts your plain font into fancy font style
Step #3: Now click on "Copy" button to copy your favorite font styles from the list
Step #4: Paste the copied text on your social media profile or video gaming profile
Step #5: Save changes on the platform & share our font generator tool with your friends!!
What is Unicode Standard?
Ideally computers store information in number format. Unicode provides a unique number to every letter and characters no matter what device, platform, application/software, or language you use. Most text in the document and web pages are encoded using one of the UTF(Unicode Transformation Format) encodings. Almost all modern devices support Unicode character translation. There are two most common types of Unicode standard available which is UTF-8 and UTF-16.
FAQ ( Frequently Asked Questions )
How do you copy a font style?
To copy a particular font style, you just have to click on the "Copy" button.
What is the best font generator?
Perfect Font Generator is one of the leading fancy font generator tool on the internet. You can use this to generate unlimited fancy fonts or texts along with a huge collection of symbols & icons. One of the advanced features of this tool is you can copy or paste texts with just one click.
How do you use fancy fonts?
Just type or paste your content in the input box at the top and the Fancy font maker tool will automatically convert your texts into fancy texts which you can use on any platform.
How do I copy and paste a font style?
When you visit this tool, you will see the "Copy" button. You just need to click that button to copy that particular font style. Once you copied the text, now you can paste the text wherever you wish.
How do you write in fancy font?
Let's say you want to write longer content in fancy fonts. Once you finished writing content, you just need to paste the whole content into the input box at the top. There is no limitation on content length, so don't worry just paste the text and get your favorite fancy font text.
Do I need technical knowledge to use Fancy Font Generator tool?
No, you don't need any kind of technical knowledge to use this tool. It's as simple as you do copy paste, you put text in the input box at top & Fancy text generator tool will generate numerous stylish fonts. Now copy your favourite font and use it anywhere you want.
Some Best Fancy Font Styles
𝕺𝖑𝖉 𝕰𝖓𝖌𝖑𝖎𝖘𝖍
𝔻𝕠𝕦𝕓𝕝𝕖 𝕊𝕥𝕣𝕦𝕔𝕜
🅸🅽🆅🅴🆁🆃🅴🅳 🆂🆀🆄🅰🆁🅴🆂
🅂🅀🅄🄰🅁🄴🅂
Ⓛⓤⓝⓘⓣⓞⓞⓛⓢ ⓑⓤⓑⓑⓛⓔⓢ
ₛᵤb ₛcᵣᵢₚₜ
S̶t̶r̶i̶k̶e̶ ̶T̶h̶r̶o̶u̶g̶h̶
S̷l̷a̷s̷h̷ ̷T̷h̷r̷o̷u̷g̷h̷
D̳o̳u̳b̳l̳e̳ ̳U̳n̳d̳e̳r̳l̳i̳n̳e̳
L⃣ u⃣ n⃣ i⃣ R⃣ o⃣ u⃣ n⃣ d⃣ S⃣ q⃣ u⃣ a⃣ r⃣ e⃣ s⃣
Why Use Perfect Font Generator?
1)

No Registration Needed

2)

It's Absolutely Free

3)

One Click Feature ( Just Copy & Paste )

4)

Easy Navigation

5)

Huge Collection of Font Styles

6)

You can use this fonts style on any social media platform ( Instagram, Facebook, WhatsApp, LinkedIn, Twitter,etc)