---
Explore other Font Generators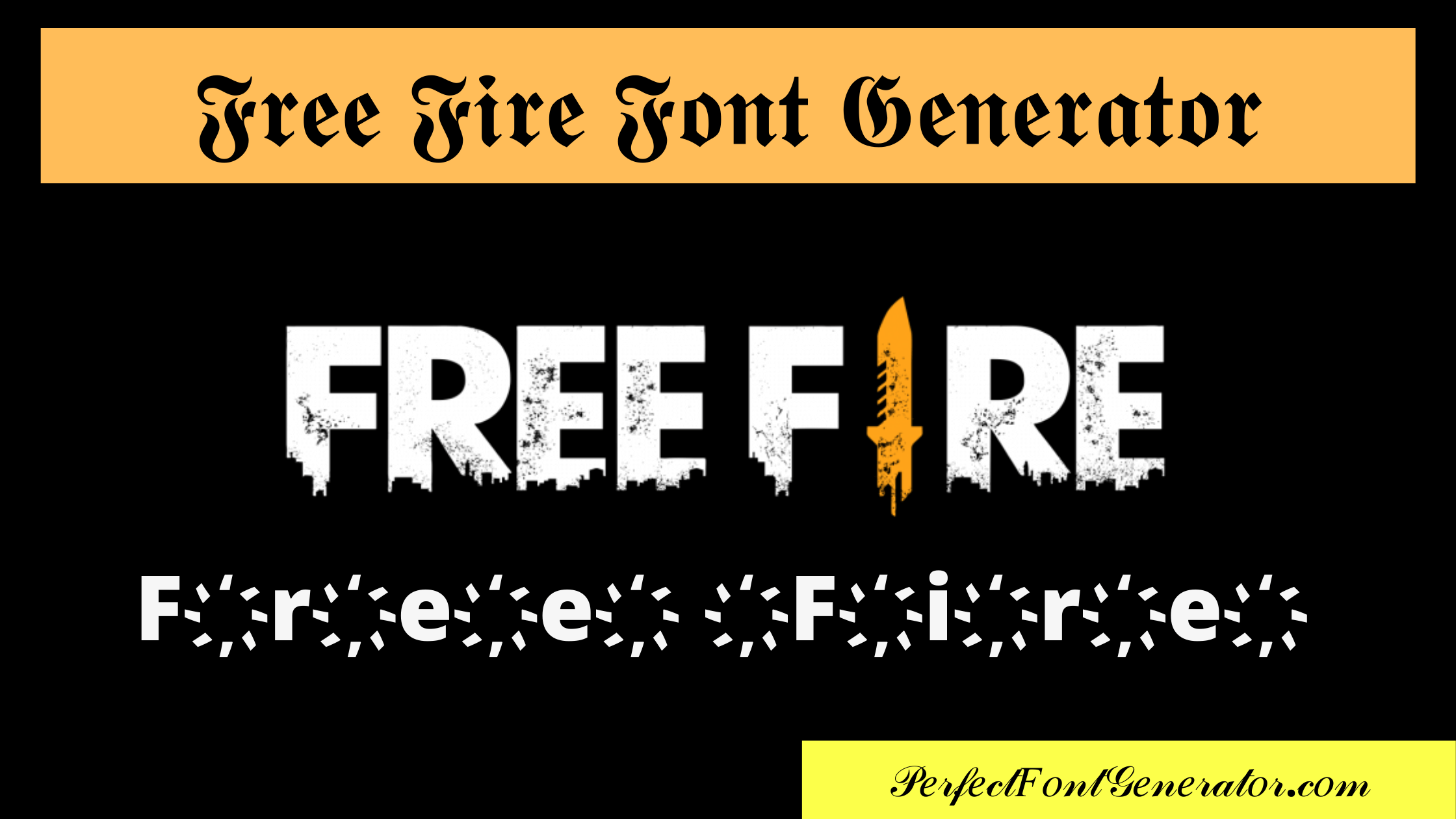 Free Fire FF Fancy Font Generator With Cool Symbols & Emojis - ¢σρу ραѕтє тσσℓ
Are you looking for stylish or fancy text on Free Fire? The Free Fire font generator tool converts normal text into stylish text font which you can use on your Free Fire profile. You can use these fancy or stylish text in your Free Fire nicknames or usernames. The font generator has many different font styles along with many symbols, icons, emojis, and emoticons.
About Garena Free Fire Game :
Garena Free Fire or Free Fire is a battle royal game developed & published by Garena. The game is available for Android & iOS users globally. The Free Fire (FF) has 80 million daily active users globally. Its gross net worth is over $1 billion worldwide.
The tool works based on a copy paste method where you can enter your desired name in the input box and the stylish font generator will generate a huge list of fancy font styles along with many cute & cool symbols and emojis.
As a pro Free Fire player, you want to give style to your FF nickname and in other places such as guid name, clan name, pet name, and anywhere you want to use it. All these available stylish font styles and symbols are compatible with Free Fire mobile & web applications.
Free Fire Small Text Generator
There are many types of small font styles are available in the tool such as superscript, subscript, cursive, zalgo, and tiny fonts.
How To Use Free Fire Font Generator?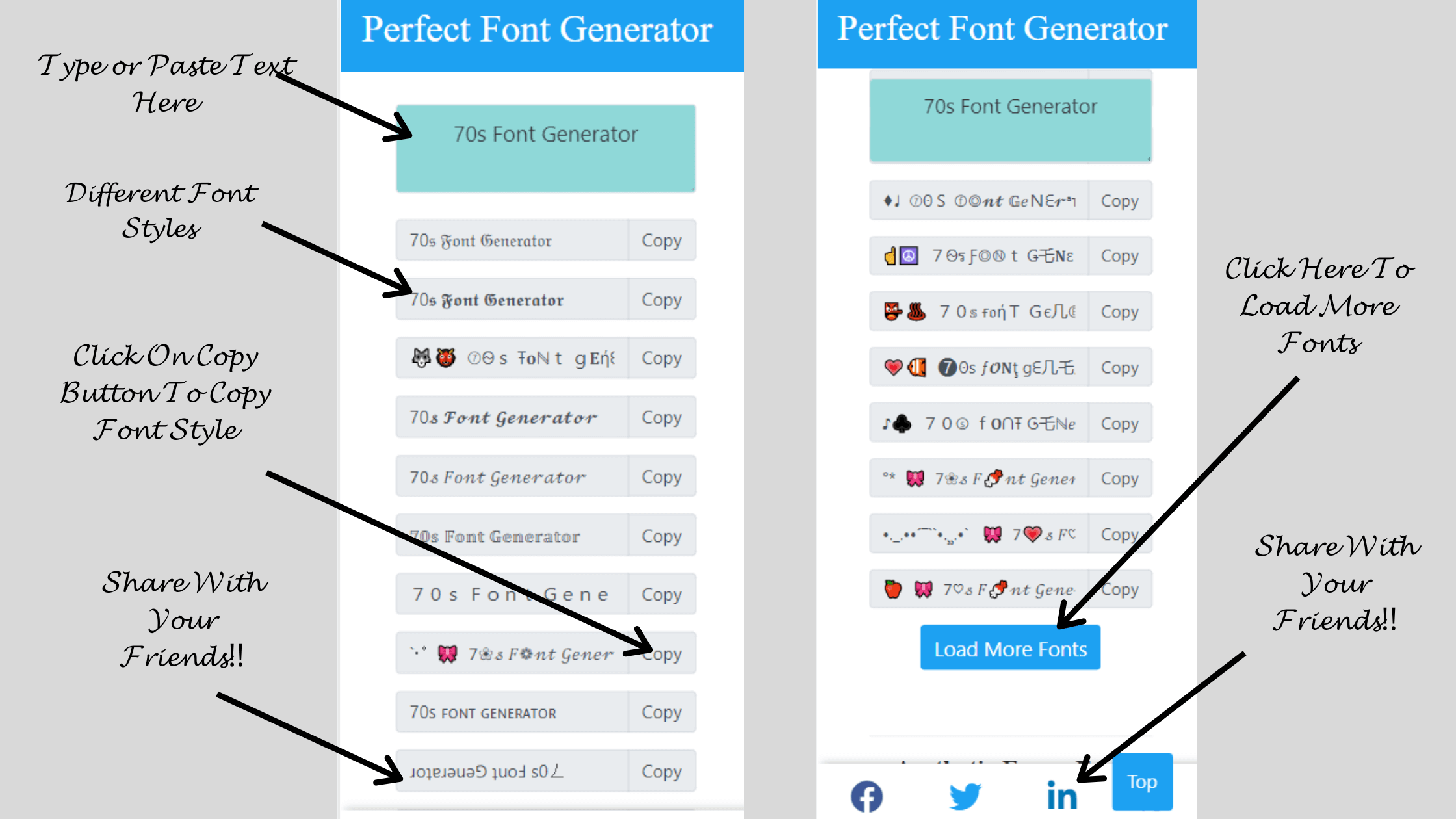 Step #1: Simply paste or type your text in the input box located at the top
Step #2: Copy Paste Free Fire Font Generator will automatically generates different type of font styles for you
Step #3: Now click on "Copy" button to copy your favorite font styles from the list
Step #4:Paste copied stylish text on your Free Fire username, title, bio, and anywhere you wish to add
Step #5:Save changes on Free Fire App & share our tool with your friends!!
What is Unicode Standard?
Ideally computers store information in number format. Unicode provides a unique number to every letter and characters no matter what device, platform, application/software, or language you use. Most text in the document and web pages are encoded using one of the UTF(Unicode Transformation Format) encodings. Almost all modern devices support Unicode character translation. There are two most common types of Unicode standard available which is UTF-8 and UTF-16.
FAQ ( Frequently Asked Questions )
What is the font used in free fire?
Garena Free Fire game uses a free grunge font named Urban Jungle. The font was designed by KC fonts.
How do you type in different fonts on free fire?
In order to get different font styles for your Free Fire nickname, you have to use external online tools such as Free Fire fancy font generator which will help you to get a wide variety of stylish font styles and symbols.
How do I change my FF name?
To change FF name, you have to navigate to the profile banner from the home screen of the mobile application. The dialog box will appear on the screen to change Free Fire nickname. Now you can copy any cool, stylish, fancy, cool, crazy, scary, weird font styles from the Free Fire font changer tool.
Who is the king of Free Fire?
Ravichandra Vigneshwar, aka GT King is considered as King of Free Fire game in February 2022. He hails from Tamil Nadu state in India. He has a YouTube channel where he shares Free Fire tutorials in Tamil language. His YouTube channel has gained more than 3 million subscribers.
How do you write stylish fonts in free fire?
Simple! Before writing stylish fonts on Free Fire mobile or web applications, first you have to visit the copy paste Free Fire stylish text maker tool which will give an option to convert your normal text into a stylish text font. Now you can copy any font styles that tool has generated for you and paste it in your Free Fire profile section. You can also insert symbols, icons, emojis, and emoticons in your nickname.
Which is the most stylish font?
As I mentioned above the list of most popular stylish and fancy font styles which you can use for your Free Fire name. You can combine different font styles and symbols or icons to create a unique and attractive name which will grab the attention of the other players.
How do I put symbols in the Free Fire name?
The FF font changer has 100+ unique and attractive symbols, icons, emojis, and emoticons which you can use in your name which will give an extra appealing edge to your nickname.
How do you type special names in Free Fire?
To help you get a huge list of special names options, I have come with FF stylish name generator tool which creates different font styles from your desired names. You can crunch more than two font styles and symbols together to create special nicknames.
How Do I Put Space in a Free Fire name?
Free Fire doesn't allow you to put spaces directly, so you have to use "U+3164" a "Hangul Filler" to create spaces between your FF name.
Is FF font generator tool free?
Yes, It's absolutely free to use because we have done hard work to make your life easier. So please bookmark this tool & share with your friends.
Do I need technical knowledge to use FF text generator tool?
No, you don't need any kind of technical knowledge to use this tool. It's as simple as you do copy paste, you put text in the input box at top & FF text changer tool will generate numerous stylish fonts. Now copy your favourite font and use it anywhere you want.
Are all fonts available on FF font generator tool compatible with most popular video games?
Almost all font of FF text maker are compatible with the most popular video game platforms. In case you find difficulty then use other available fonts from the list because some platforms have limitations.
Some Best Free Fire Stylish and Fancy Font Styles:
𝕺𝖑𝖉 𝕰𝖓𝖌𝖑𝖎𝖘𝖍
𝔻𝕠𝕦𝕓𝕝𝕖 𝕊𝕥𝕣𝕦𝕔𝕜
𝕸𝖊𝖉𝖎𝖊𝖛𝖆𝖑
Wide Text
dılℲ sloo⊥ ıun˥
🅂🅀🅄🄰🅁🄴🅂
卂丂丨卂几 丂ㄒㄚㄥ乇丂
šΩuïgレε šψmß⊕レš
S̶t̶r̶i̶k̶e̶ ̶T̶h̶r̶o̶u̶g̶h̶
T̴i̴l̴d̴e̴ ̴S̴t̴r̴i̴k̴e̴ ̴T̴h̴r̴o̴u̴g̴h̴
𝚂̷𝚕̷𝚊̷𝚜̷𝚑̷ 𝚃̷𝚑̷𝚛̷𝚘̷𝚞̷𝚐̷𝚑̷
U̲n̲d̲e̲r̲l̲i̲n̲e̲
𝒮𝒸𝓇𝒾𝓅𝓉𝒾𝒻𝓎
𝓒𝓾𝓻𝓼𝓲𝓿𝓮
𝘐𝘵𝘢𝘭𝘪𝘤
𝘽𝙤𝙡𝙙 𝙄𝙩𝙖𝙡𝙞𝙘
𝙼𝚘𝚗𝚘 𝚂𝚙𝚊𝚌𝚎
Ⓛⓤⓝⓘⓣⓞⓞⓛⓢ ⓑⓤⓑⓑⓛⓔⓢ
🅸🅽🆅🅴🆁🆃🅴🅳 🆂🆀🆄🅰🆁🅴🆂
ᖴᗩ丅 丅ᗴ᙭丅
D̳o̳u̳b̳l̳e̳ ̳U̳n̳d̳e̳r̳l̳i̳n̳e̳
Ż̴̭̾̊̂͆͝ǎ̴͖͙̜̓͒͑̈̌͒̃̆͗ļ̶͎̻͂̀́̒ͅģ̴̛̦̤̥̣̤͊̒͂̑̕o̵̡̩̰͍̙̱̫̘͊͑͒ ̵̧̛̪̣̩̠̫̔̾̒F̵̡̻͕̯̭̞̘̱̥͆̈́́̕͝ò̸̲̺͎͋̔̈́̿̂̅̕n̴̛̻̬̩͖̰̠̰̆̇̾͊͊̕ͅt̴̟̒͂̇̕͝͠s̸͈̍́̆̇̎̕͝
F҉i҉r҉e҉ ҉W҉o҉r҉k҉
B͙o͙t͙t͙o͙m͙ S͙t͙a͙r͙
B̟o̟t̟t̟o̟m̟ P̟l̟u̟s̟
S̾t̾i̾n̾k̾y̾ ̾A̾b̾o̾v̾e̾
S͎t͎i͎n͎k͎y͎ ͎B͎e͎l͎o͎w͎
H♥e♥a♥r♥t♥s♥ ♥B♥e♥t♥w♥e♥e♥n♥ ♥F♥o♥n♥t♥s
░D░o░t░t░y░ ░J░o░i░n░e░r░
〜S∿i∿n∿g∿l∿e∿ ∿W∿a∿v∿y∿ ∿J∿o∿i∿n∿e∿r〜
S⋆t⋆a⋆r⋆ ⋆J⋆o⋆i⋆n⋆e⋆r
ıllıllı⭐🌟 S͙t͙a͙r͙ D͙e͙c͙o͙r͙a͙t͙e͙d͙ F͙o͙n͙t͙s͙ 🌟⭐ıllıllı
꧁•⊹٭𝚂𝚝𝚊𝚛 𝙳𝚎𝚌𝚘𝚛𝚊𝚝𝚎𝚍 𝙵𝚘𝚗𝚝𝚜٭⊹•꧂
(づ。◕‿‿◕。)づ ємσтι¢σηѕ ƒσηтѕ ٩(˘◡˘)۶
( ⚈̥̥̥̥̥́⌢⚈̥̥̥̥̥̀) S͛⦚a͛⦚d͛⦚ F͛⦚o͛⦚n͛⦚t͛⦚s͛⦚ ( ⚈̥̥̥̥̥́⌢⚈̥̥̥̥̥̀)
🍬 ⋆ 🎂 🎀 𝒞𝓊𝓉𝑒 𝐹💙𝓃𝓉𝓈 🎀 🎂 ⋆ 🍬
💘♣ ᶜŘⒶⓩу Fσ𝔫𝐭𝓈 ⛵✌
ඏ✌ 𝓬𝓡Ⓐⓩㄚ ғ𝕆NT𝔰 ♖🐻
A͎͍͐→r͎͍͐→r͎͍͐→o͎͍͐→w͎͍͐→ J͎͍͐→o͎͍͐→i͎͍͐→n͎͍͐→e͎͍͐→r͎͍͐→
≋W≋a≋v≋y≋ ≋J≋o≋i≋n≋e≋r≋
⟦B⟧⟦o⟧⟦x⟧ ⟦T⟧⟦e⟧⟦x⟧⟦t⟧ ⟦F⟧⟦o⟧⟦n⟧⟦t⟧
B⃣ o⃣ x⃣ T⃣ e⃣ x⃣ t⃣ F⃣ o⃣ n⃣ t⃣
【B】【o】【x】 【T】【e】【x】【t】 【F】【o】【n】【t】
『B』『o』『x』 『T』『e』『x』『t』 『F』『o』『n』『t』
Why Use Perfect Font Generator?
1)

No Registration Needed

2)

It's Absolutely Free

3)

One Click Feature ( Just Copy & Paste )

4)

Easy Navigation

5)

Huge Collection of Font Styles

6)

You can use this fonts style on any social media platform ( Instagram, Facebook, WhatsApp, LinkedIn, Twitter,etc)