---
Explore other Font Generators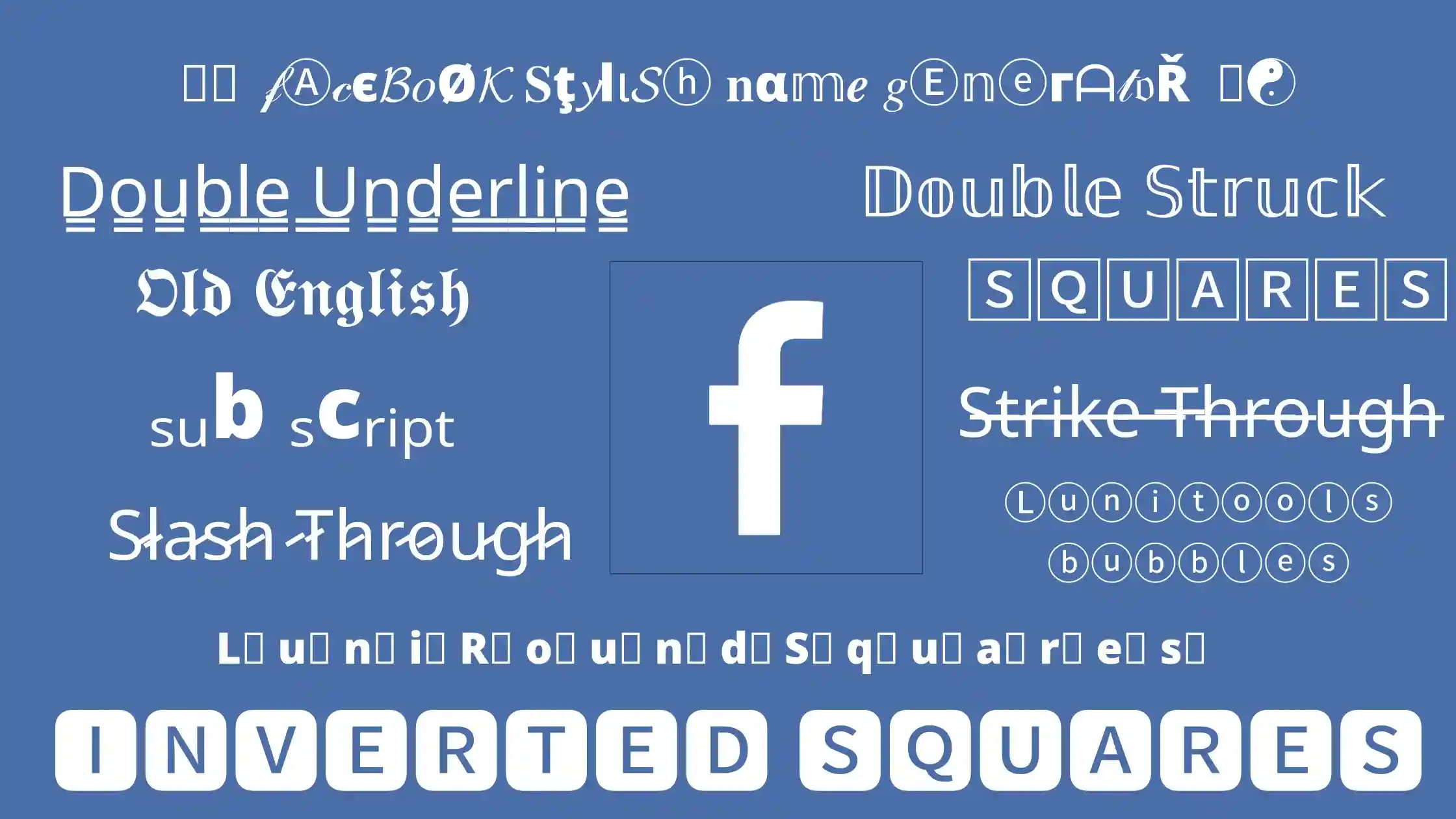 Facebook Stylish Name Generator With 90+ 𝕗𝕒𝕟𝕔𝕪 𝕗𝕠𝕟𝕥 𝕤𝕥𝕪𝕝𝕖𝕤 & 🐠😲 ᑕᵒ𝕠ᒪ Ş𝔂๓𝐁๏𝐥ⓢ ♥👤
Make your Facebook profile name stand out with the Facebook Stylish Name Generator. This handy tool allows you to convert your regular name into a stylish one, complete with cool symbols and icons. Express your individuality and catch everyone's attention with unique font styles. Here's what the Name Generator offers:
Name Generator Features:
1.

Automatically converts the plain name into a stylish name with cool symbols & icons: The tool takes your plain name and transforms it into a visually appealing and stylish name by incorporating a variety of fancy font styles, symbols, and icons. Say goodbye to ordinary names and hello to an extraordinary profile!

2.

Variety of fancy font styles: Explore a diverse collection of fancy font styles to find the one that perfectly matches your personality and style. From elegant script fonts to bold and edgy designs, there's a font for every taste.

3.

Compatible with Facebook: Rest assured that the stylish names generated by this tool are fully compatible with the Facebook platform. You can confidently use them in your profile name without any issues.

4.

Copy and Paste: With the convenient 'Copy' button, you can easily copy your stylish name from the generated list and paste it directly into your Facebook profile. No need to manually type or remember complex symbols—just copy and go!

5.

UTF Unicode encoding: The Name Generator uses UTF Unicode encoding to ensure that your stylish name is accurately displayed across different devices and platforms. Your unique identity remains intact no matter where you access Facebook.
About Facebook
Facebook is the world's biggest social networking platform in every aspect of measuring metrics and it has nearly 2.74 billion monthly active users.
1.

Facebook is the world's 3rd most visited website

2.

Facebook is 2nd most downloaded app in the world

3.

132.4% of Facebook's audience is aged 25-34

4.

157% of Facebook's audience is male

5.

Facebook users spend 34 minutes per day using the platform
Note: Above statistics are updated on 02/07/2023
How To Use Facebook Stylish Name Generator?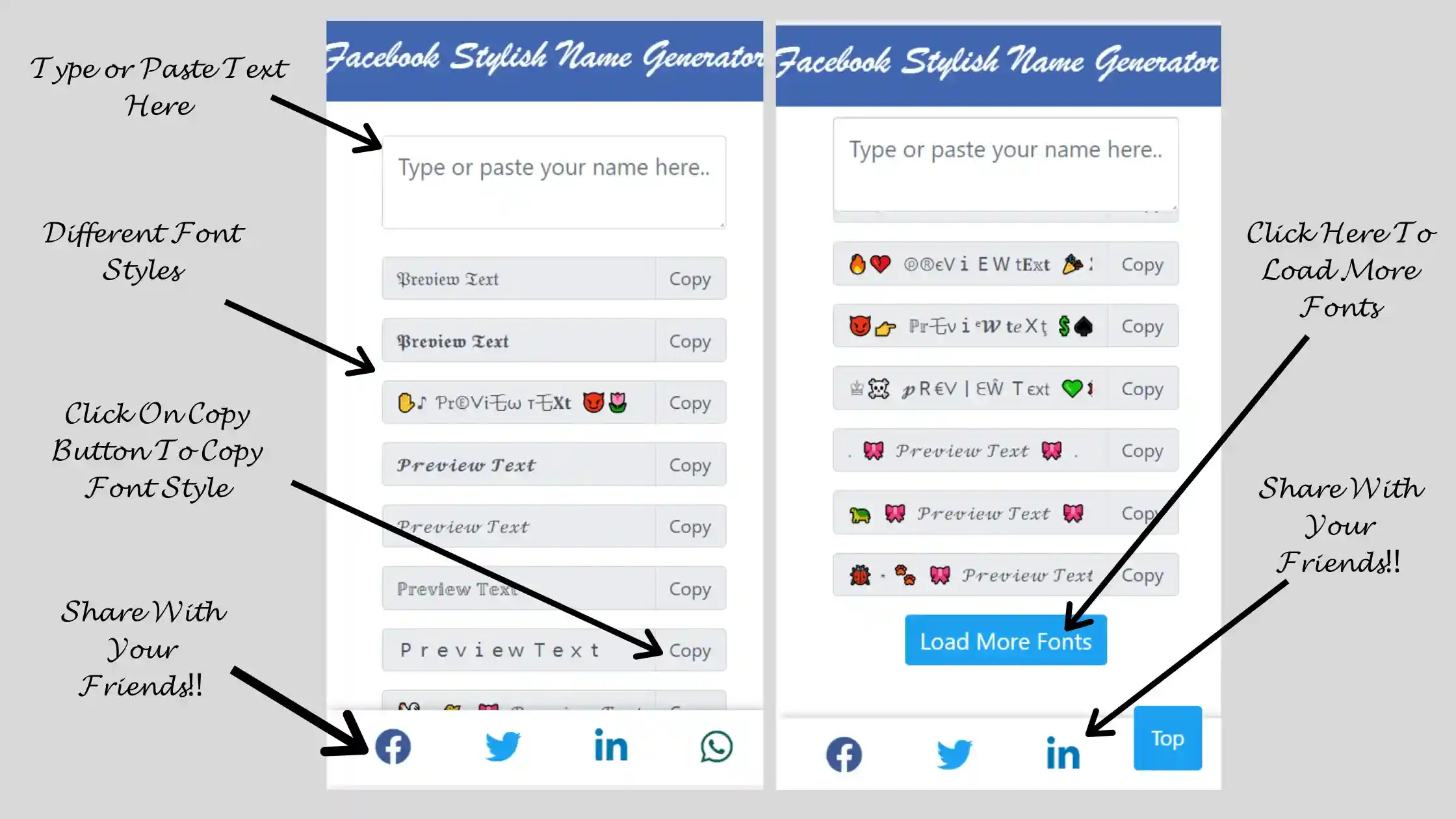 1.

Visit FB Stylish Name Generator Tool

2.

Enter your regular name in the provided input field.

3.

Explore the variety of fancy font styles and symbols available.

4.

Preview how your name will look in different fonts and choose your favorite.

5.

Once you're satisfied, click the 'Copy' button to copy the generated stylish name.

6.

Open Facebook and navigate to your profile.

7.

Edit your profile name and paste the copied stylish name into the field.

8.

Save your changes and enjoy your stylish new Facebook profile name!
Where Can You Use Stylish Names on Facebook?
You can use the stylish names generated by this tool in various sections of your Facebook profile, including:
1.

Profile name: Make a bold statement and capture attention by replacing your regular name with a stylish font in your profile name.

2.

About section: Use stylish names to enhance your introduction or showcase your personality in the "About" section of your profile.

3.

Photo captions: Complement your photos with creative and eye-catching stylish names as captions.
How do I create a unique name on Facebook?
Creating a unique name on Facebook can be a fun and creative process. Here are some tips to help you come up with a unique name:
1.

Combine Words: Mix and match different words or parts of words to create a unique combination. Be playful and experiment with different combinations until you find something that stands out.

2.

Use Nicknames or Initials: Incorporate your nickname, initials, or a variation of your real name to add a personal touch to your Facebook name.

3.

Add Numbers or Symbols: Consider adding numbers or symbols to your name to make it more unique. However, make sure it's still easy to remember and doesn't appear too complicated.

4.

Uncommon Spellings: Play around with alternative spellings of common words or names. This can give your Facebook name a unique twist while still maintaining its recognizability.

5.

Interests or Hobbies: Incorporate your interests or hobbies into your Facebook name. For example, if you're passionate about music, you could include a musical term or reference in your name.

6.

Be Creative and Imaginative: Don't be afraid to think outside the box and let your creativity flow. Consider using words from different languages or creating your own unique word.
FAQ (Frequently Asked Questions)
Can I Use These Stylish Names On Other Social Media Platforms?
Yes, you can use these stylish names on any social media platforms. All fancy fonts & symbols available on the website are compatible with all platforms.
Note: If you are facing any issue while using any of the font style then please use other available font styles from the list.
How Can I Make My FB Name Stylish?
Its simpler than what you are thinking, headover to fb font generator tool which gives you the edge to convert normal names into fantastic stylish names. Enter your name in the input box located at top and the tool will generate different stylish names for you that you can directly copy and paste it on your Facebook profile.
What Is A Facebook Nickname?
Facebook allows you to add nicknames which consist your first name, middle name, professional name, and surname. You make your Facebook nicknames stylish & fancy which attracts your audience.
How Do I Get A Fancy Font For My Facebook Page?
Cool! The facebook font generator has 1000+ fancy font styles along with different icons, symbols, emojis, and emoticons which you can directly use anywhere on the Facebook page such as name, about us/description, posts, comments, store, cover image, profile image, etc.
How Do I Get Fancy Fonts For Facebook Messenger?
Do you want to send something unique & attractive to your loved ones then you can't stay with normal fonts. You can make them special by sending messages in different font styles and emojis which make your message special & unique. The facebook messenger font generator has a 1000+ wide range of different font styles along with different fancy fonts, emojis, icons, symbols, and emoticons. All available fonts are compatible with Facebook messenger.
Explore Now: FB Messenger Font Generator - Online Copy Paste Tool
How Do You Change Font On Facebook?
Header over to your facebook profile and navigate to settings by clicking at 3 dots at the right corner of your mobile or web application. When you scroll down you will find the appearance option, under that you will get the option to change font styles.
How Can We Write In Bold Letters On Facebook?
Facebook doesn't allow you to bold letters on their platform. So you need to use third party font generators which will help you to change normal letters into bold, italic, underline, and other formatting options. You just need to type or paste the letters and the tool will return your desired formatting within a second. Now you can use formatted text anywhere on Facebook.
How Can I Change My Facebook Messenger Font Style?
To change your Facebook messenger chat font style you need use online tools which gives an opportunity to get wide variety of font styles which incorporates fancy fonts, stylish fonts, professional fonts, funny fonts, weird fonts, and along with emojis, icons, symbols, and emoticons.
How Do You Format Text On Facebook Post?
In the case of formatting Facebook posts you need to use font generators like Perfect Font Generator which gives you an option to format your Facebook post with different styling choices.
How Can I Comment In Bold Texts In Facebook Posts?
Facebook by default doesn't allow you to bold your comments on the post. For that reason, you need to utilise online tools which allow you to bold your text and are compatible with the platform.
How do I change my Facebook name?
To change your Facebook name, follow these steps:
1.

Go to your Facebook profile.

2.

Click on the "About" section.

3.

Under your name, click the "Edit" button.

4.

Enter your new stylish name generated by the Facebook Stylish Name Generator.

5.

Review Facebook's name guidelines and make sure your new name complies with them.

6.

Click "Review Change" and follow the prompts to save your new name.
Why Use Perfect Font Generator?
1)

No Registration Needed

2)

It's Absolutely Free

3)

One Click Feature ( Just Copy & Paste )

4)

Easy Navigation

5)

Huge Collection of Font Styles

6)

You can use this fonts style on all website & apps