---
Explore other Font Generators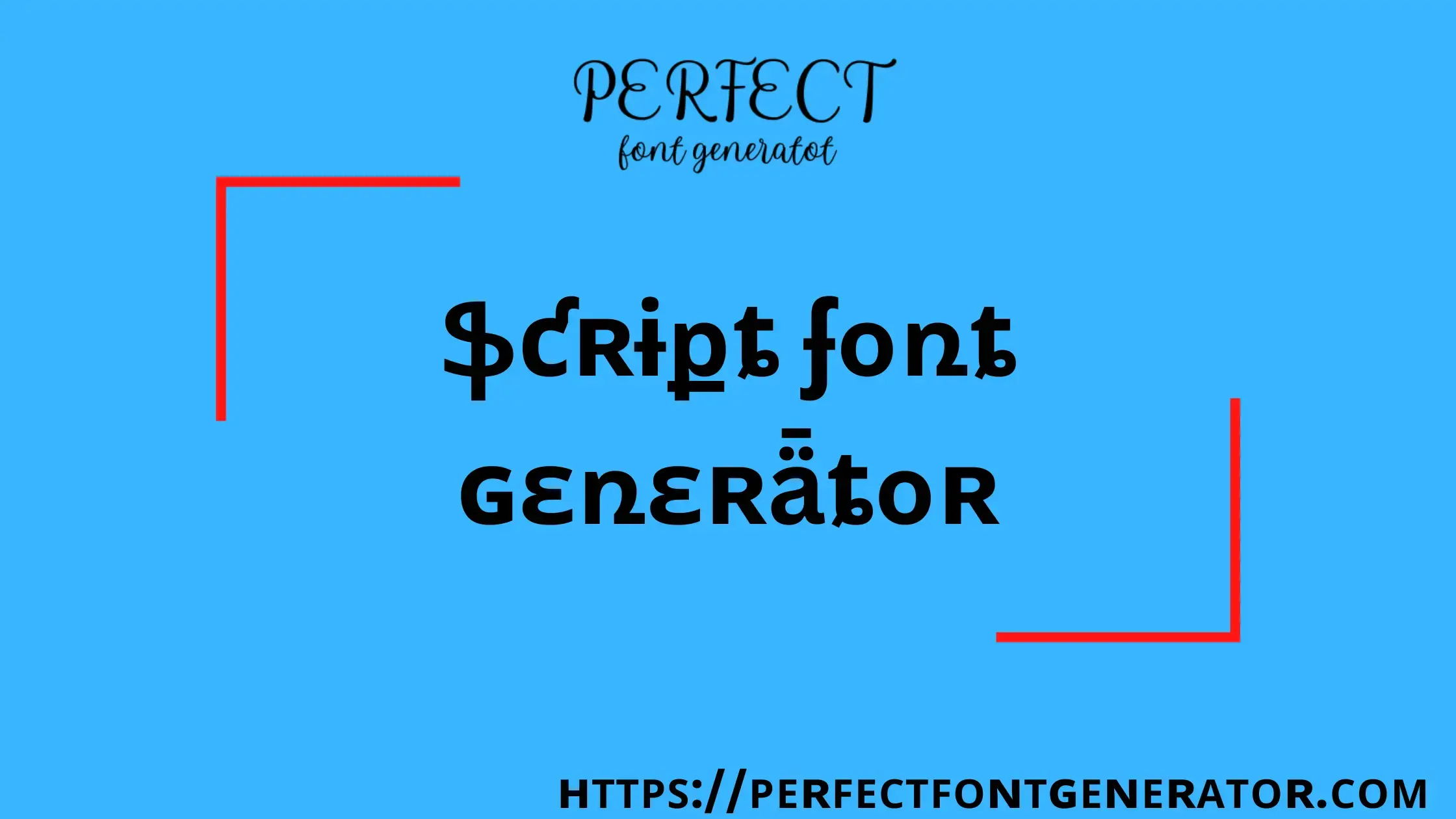 Script Font Generator: Create Stylish Script Text Online
With Script Font Generator, a powerful tool that effortlessly transforms plain text into beautiful script fonts. With just a few clicks, you can add a touch of elegance and sophistication to your text, making it perfect for various design projects. Our generator also offers a wide range of cool symbols and icons to further enhance your script text. Let's explore more about script fonts and how to use our generator effectively.
About Script Font
Script fonts are known for their flowing and handcrafted appearance, mimicking elegant cursive handwriting. They exude a sense of charm, warmth, and sophistication, making them ideal for invitations, greeting cards, logos, and more. Whether you want to add a touch of vintage flair or convey a sense of personalization, script fonts are a perfect choice.
Cool Symbols, Emojis, and Icons
Our Script Font Generator doesn't just offer stunning script fonts; it also provides a variety of cool symbols, emojis, and icons to embellish your text. Experiment with different characters to create unique and eye-catching designs that suit your project's style.
Copy & Paste
Once you've customized your text with the perfect script font and symbols, our user-friendly tool allows you to copy it with a simple click. Effortlessly paste your stylish script text into any application or platform of your choice.
Where Can You Use Script Texts?
1.

Invitations and Greeting Cards: Make your special occasions memorable with elegant script fonts on invitations and greeting cards.

2.

Logo Design: Create a distinctive and timeless brand identity with a script font logo.

3.

Social Media: Use script text to add a touch of personalization to your social media posts and stories.

4.

Wedding Stationery: Script fonts are a popular choice for wedding invitations, menus, and place cards, adding a touch of romance to the occasion.
1.

Visit Script Font Generator page.

2.

Enter your desired text into the input box provided.

3.

Our generator will automatically convert your text into the Script Font style, giving each character its unique "script" appearance.

4.

Explore the collection of cool symbols, emojis, and icons available and integrate them into your Script Text if desired.

5.

Once you're satisfied with the result, click the 'Copy' button to instantly copy the Script Font text to your clipboard.

6.

Paste the Script Text into your preferred design software, social media platforms, or text-editing applications to infuse your text with a playful and quirky vibe.
FAQ ( Frequently Asked Questions )
What font is used for scripts?
Script fonts refer to a wide range of typefaces that mimic cursive handwriting styles.
What is the most readable script font?
Fonts like "Bickham Script" and "Snell Roundhand" are considered highly readable script fonts.
Why is script font used?
Script fonts are used to add elegance, sophistication, and a personal touch to design projects.
What are common script fonts in Word?
Microsoft Word offers script fonts like "Lucida Handwriting" and "Bradley Hand."
What are the two types of script fonts?
Script fonts can be categorized as formal scripts and casual scripts, each with its unique flair.
Which font is usually used in weddings?
Elegant script fonts like "Chopin Script" and "Samantha" are popular choices for wedding stationery.
How do you get script fonts on Instagram?
You can generate script fonts using our Font Generator and then use them on Instagram by copying and pasting the text.
What is the script font called?
There is a wide range of script fonts available, each with its unique name and style.
Why use script fonts?
Script fonts add a touch of elegance, personalization, and style to design projects, making them highly popular among designers.
Why Use Perfect Font Generator?
1)

No Registration Needed

2)

It's Absolutely Free

3)

One Click Feature ( Just Copy & Paste )

4)

Easy Navigation

5)

Huge Collection of Font Styles

6)

You can use this fonts style on all website & apps