---
Explore other Font Generators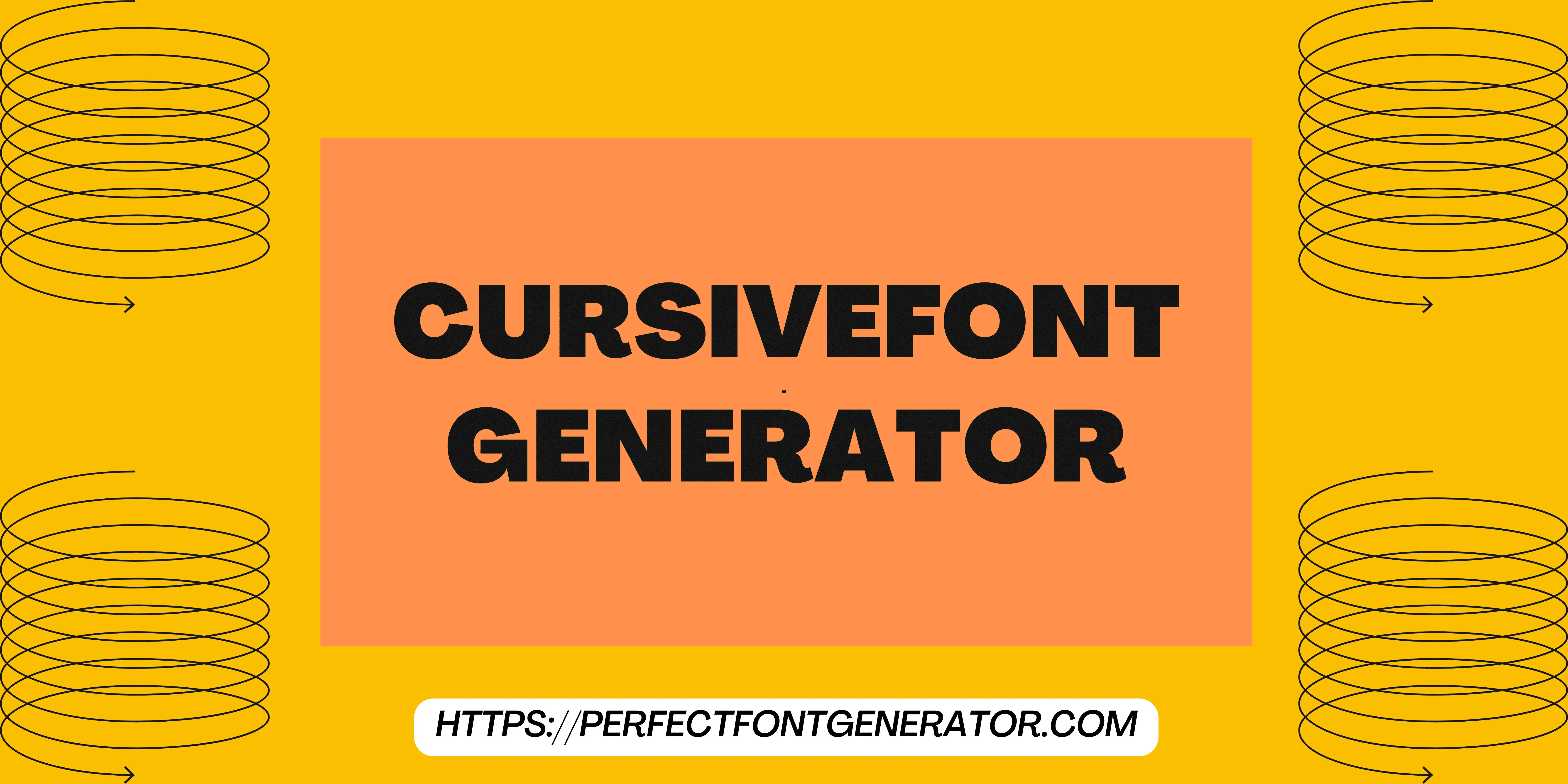 Cursive Font Generator: Convert Ordinary Text into Cursive Text
In a digital world overflowing with endless streams of text, the power of expression lies in making your words stand out. Sometimes, it's not just what you say, but how you say it. Introducing our Cursive Font Generator, a tool designed to effortlessly transform plain text into the graceful artistry of cursive script. With an added touch of captivating symbols and icons, this tool takes your words on a journey of elegance and flair.
What is a Cursive Font?
A cursive font is a timeless style of writing that resembles handwritten script, characterized by flowing and interconnected letters. With our font generator, you can infuse your text with the charm of cursive writing, replacing standard characters with effortlessly flowing cursive letters. These fonts evoke a sense of elegance and sophistication.
Cool Symbols, Emojis, and Icons
Our tool doesn't just alter the look of your text; it enhances it with a collection of cool symbols, emojis, and icons that complement the cursive style. From hearts and stars to elegant flourishes and expressive emojis, these elements allow you to add a touch of artistry and emotion to your content.
Copy & Paste
Efficiency is essential, and our tool ensures that adding cursive fonts to your work is a breeze. With a simple click of the "Copy" button, you can instantly copy your cursive text to your clipboard, ready for pasting into your social media posts, messages, or any other platform of your choice. It's a smooth and hassle-free process.
How To Use Cursive Font Generator?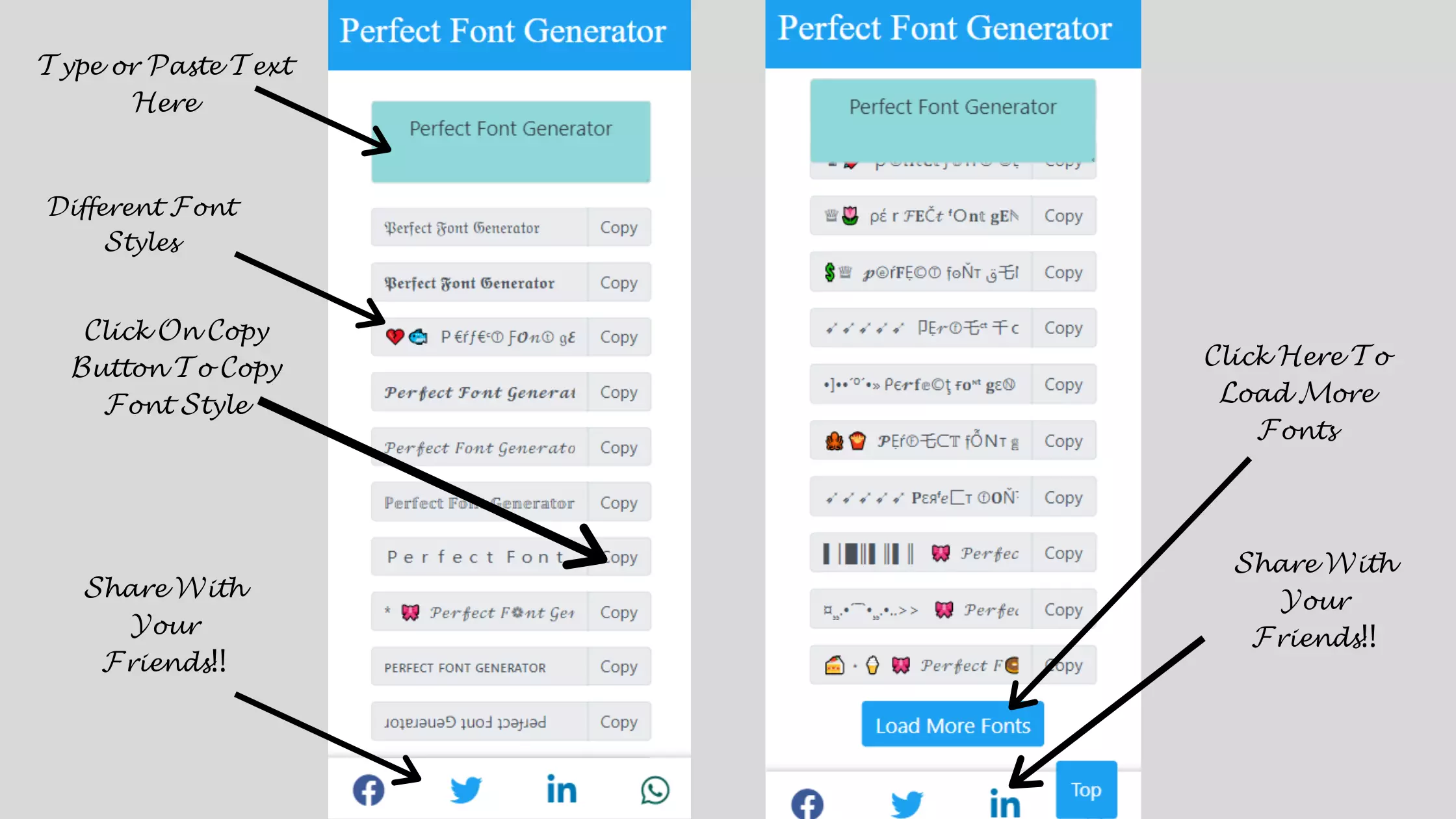 Step #1: Simply paste or type your text in the input box located at the top
Step #2: The cursive font generator will automatically convert regular text into stylish cursive text
Step #3: Now click on "Copy" button to copy the text
Step #4: Use this text on any social media or gaming app
Step #5: Save changes on platform & share our tool with your friends!!
Where Can You Use Cursive Texts?
Cursive fonts are incredibly versatile, and their unique charm can elevate a wide range of digital and print projects. Here are some key areas where you can make the most of these elegant typefaces:
Formal Documents and Invitations
Cursive fonts are a perfect choice for crafting formal documents, such as wedding invitations, event announcements, and elegant letters. Their graceful, flowing appearance adds a touch of sophistication and makes a lasting impression.
Creative Writing and Literature
Cursive fonts can infuse creative writing with a sense of artistry and personal touch. Whether you're working on poetry, storytelling, or creative essays, cursive fonts can set the tone and transport readers into your narrative.
Social Media and Web Content
Cursive fonts can add a dash of elegance to your social media posts, making your content more visually appealing. Platforms like Instagram and Pinterest are ideal for showcasing cursive fonts in captions and images.
Educational Materials
Cursive fonts are often used in educational materials to teach handwriting skills. They help students learn and practice cursive writing while making the learning process more engaging and enjoyable.
Printed Materials
Cursive fonts are perfect for printed materials like posters, flyers, brochures, and book covers. They lend a sense of style and elegance to your designs, making them more appealing to your target audience.
Personal Projects and DIY Crafts
For personal projects like homemade greeting cards, scrapbooking, or DIY crafts, cursive fonts can add a personal and artistic touch. Whether it's a heartfelt message or a decorative element, cursive fonts enhance the overall aesthetic.
FAQ ( Frequently Asked Questions )
Is the Cursive Font compatible with all platforms?
Cursive Font Generator produces text that's 100% compatible with all digital platforms. You can confidently use it on websites, social media, messaging apps, and more, knowing that it will display correctly.
How does the tool work?
The tool utilizes the UTF encoding method to convert your plain text into a cursive font. It's an automated and efficient process that instantly transforms your text.
Are there any character limitations for generating cursive fonts?
No, you can generate cursive fonts for text of varying lengths, from short messages to lengthy articles. The tool is versatile and can accommodate your creative needs.
Can I use cursive fonts for commercial purposes?
Yes, you are free to use the cursive fonts generated by our tool for commercial projects. Just ensure that you adhere to copyright and trademark regulations when incorporating them into your work.
What font is cursive?
Cursive fonts encompass a wide range of handwritten or script-style typefaces. Some popular cursive fonts include "Brush Script," "Lucida Calligraphy," "Zapfino," and "Lobster," each offering its own distinctive and elegant script design.
What is script cursive font?
A script cursive font is a typeface that emulates the appearance of handwriting in a flowing, connected script. It often features slanted and overlapping characters, creating the impression of a handwritten script. Script cursive fonts are ideal for adding a touch of elegance and personalization to various design projects, including invitations, branding, and creative writing.
What font on Google is cursive?
Google Fonts offers a diverse collection of cursive fonts that you can use for various web-based projects. Some popular cursive fonts on Google Fonts include "Pacifico," "Dancing Script," "Great Vibes," and "Italianno." These fonts are free to use and can add a touch of sophistication and style to your online content.
Is there a font in Word that is cursive?
Microsoft Word provides several cursive or script fonts that you can choose from when creating documents. These include fonts like "Lucida Calligraphy," "French Script," "Monotype Corsiva," and "Vivaldi." You can access these fonts to give your documents an elegant and handwritten appearance.
Is cursive a good font?
Cursive fonts are a good choice for specific situations and design needs. They can add elegance and a personal touch to invitations, formal documents, branding, and creative projects.
What are the three types of cursive?
There are various styles and types of cursive handwriting. The three primary styles of cursive are:
Traditional Cursive: This style features slanted and flowing characters with distinct loops and connections between letters. It's often used in educational settings.
Modern Cursive: A more contemporary and simplified version of cursive handwriting, modern cursive focuses on legibility and is commonly used for teaching handwriting.
Artistic Cursive: This style embraces artistic flair, featuring elaborate and decorative characters often used for creative and decorative purposes, such as invitations and artistic projects.
Why is it called cursive?
The term "cursive" is derived from the Latin word "cursivus," meaning "running" or "flowing." Cursive writing is characterized by the continuous and flowing nature of the characters, as if the pen is running across the paper. The name reflects the handwritten script's elegant and interconnected style.
Why Use Perfect Font Generator?
1)

No Registration Needed

2)

It's Absolutely Free

3)

One Click Feature ( Just Copy & Paste )

4)

Easy Navigation

5)

Huge Collection of Font Styles

6)

You can use this fonts style on all website & apps