---
Explore other Font Generators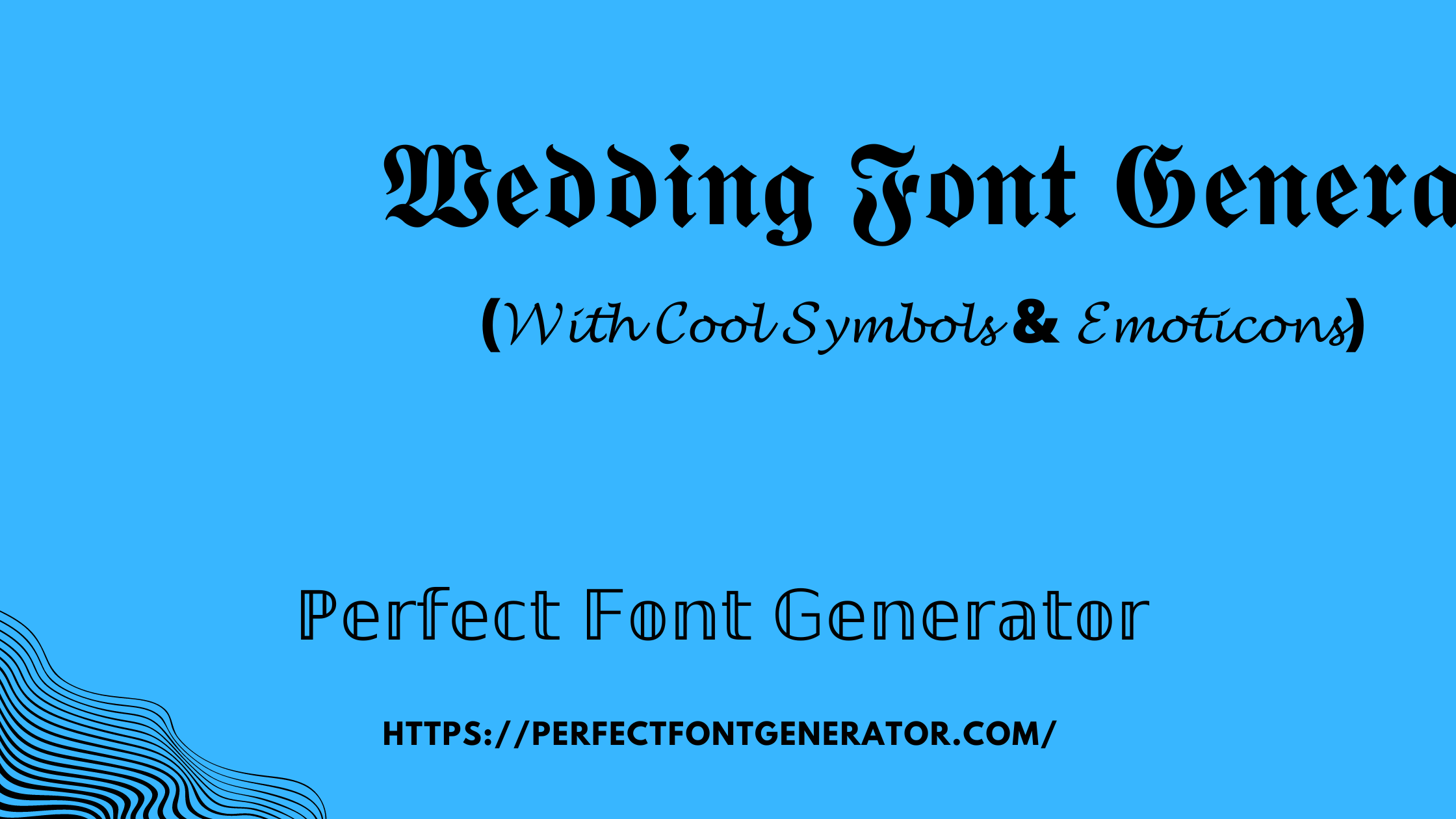 Wedding Fancy Font Generator - Online Copy Paste Tool
The Wedding font generator will convert your plain font into fancy fonts which you can use on your wedding occasions. Use these fancy font styles to create unique & appealing wedding invitation cards, designer envelopes, box wedding cards, greeting cards, etc. You can use these fancy texts in your wedding card titles, bride names, addresses, cover texts, etc.
The Wedding font generator has 90+ fancy font styles along with a wide variety of symbols and emoticons. You can use these fancy fonts in any photo editing tool. The tool is 100% compatible with all photo & video editing apps & websites. Even you can use these fancy text in your social media profiles to make them attractive & unique.
Wedding Text Generator has many popular fancy font styles which you have seen in wedding cards. It has many stylish fonts such as StrikeThrough, Underline, SlashThrough, HeartsBetween, Firework, KirbyHug, InvertedSquares, Cursive, old English, wide text, etc.
As a new bride, you want to make your social media profile attractive so that you can use different fancy texts with different symbols & emojis. Use these fonts on your social media profile title, nickname, bio, posts, messages, story, and comments.
How To Use Wedding Font Generator Tool?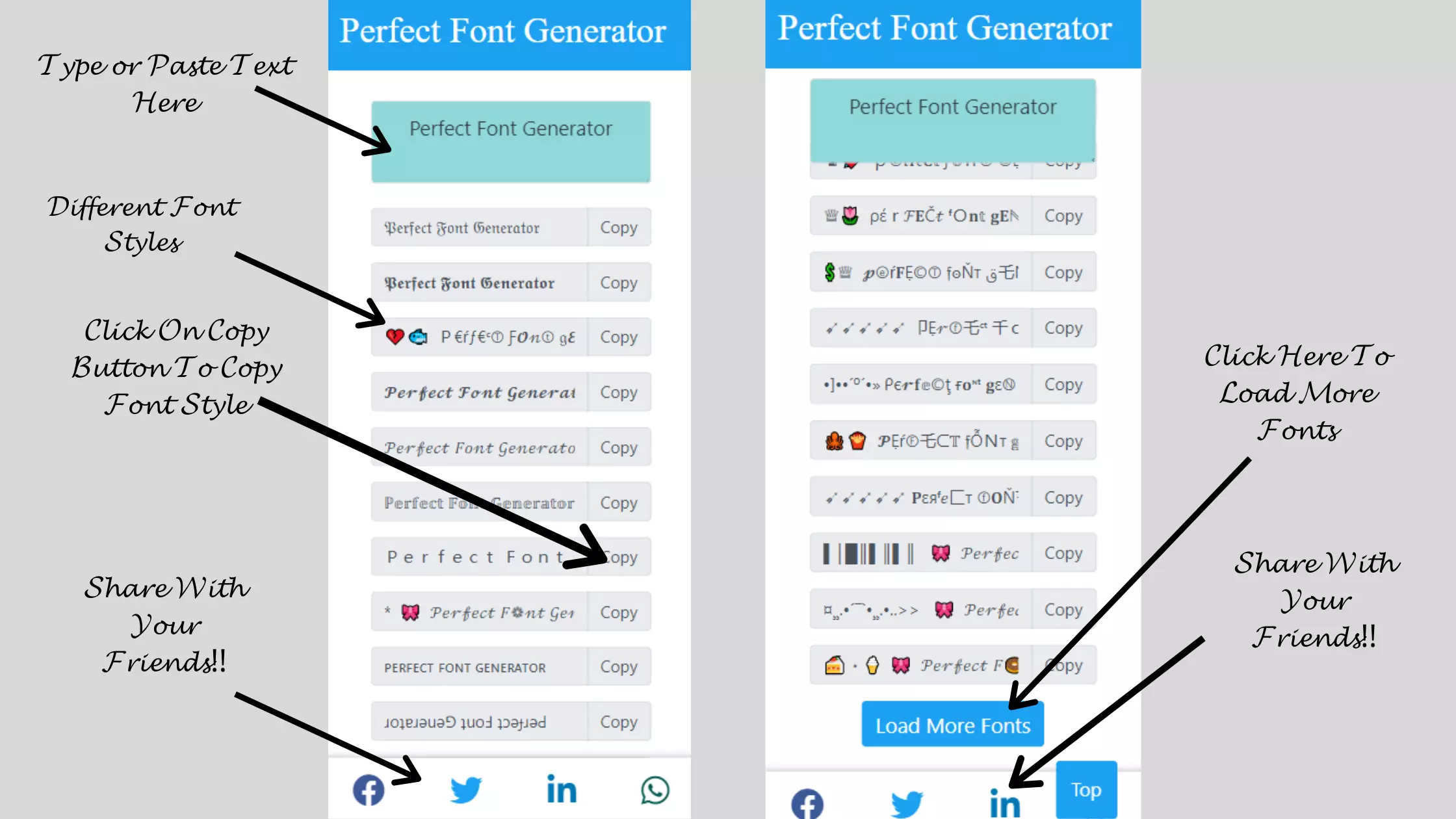 Step #1: Simply paste or type your text in the input box located at the top
Step #2: The Wedding Font Generator will automatically converts your plain font into fancy font style
Step #3: Now click on "Copy" button to copy your favorite font styles from the list
Step #4: Paste the copied text on your wedding cards
Step #5: Share our tool with your friends!!
What is Unicode Standard?
Ideally computers store information in number format. Unicode provides a unique number to every letter and characters no matter what device, platform, application/software, or language you use. Most text in the document and web pages are encoded using one of the UTF(Unicode Transformation Format) encodings. Almost all modern devices support Unicode character translation. There are two most common types of Unicode standard available which is UTF-8 and UTF-16.
FAQ ( Frequently Asked Questions )
What is a good font for weddings?
There are many beautiful and romantic fonts, as per your design aesthetics you can use any of them on your wedding invitation card. Some of the best fonts are Script fonts, Calligraphy fonts, Serif fonts, Sans Serif Fonts, and many more.
What is the classic wedding font?
Classico is one of the most used fonts for wedding cards, the font style is a combination of serif and sans serif fonts with regular formatting choices.
What is the best font for a formal invitation?
It doesn't matter for which festival or occasion you are inviting your loved ones, it is necessary in today's world to sound design-centric while creating invitation cards. So you can use any wedding fonts which are mentioned above.
How many fonts should be on an invitation?
Ideally, you should use 2-3 font styles to design different sections of the invitation cards like title, description, venue details, etc.
How do I choose a wedding font?
It depends on your design instincts whether you want to make your invitation card romantic, simple, and heavily designed.
Is Wedding Font Generator tool free?
Yes, It's absolutely free to use because we have done hard work to make your life easier. So please bookmark this tool & share with your friends.
Some Best Wedding Fancy Font Styles
𝕺𝖑𝖉 𝕰𝖓𝖌𝖑𝖎𝖘𝖍
𝔻𝕠𝕦𝕓𝕝𝕖 𝕊𝕥𝕣𝕦𝕔𝕜
🅸🅽🆅🅴🆁🆃🅴🅳 🆂🆀🆄🅰🆁🅴🆂
🅂🅀🅄🄰🅁🄴🅂
Ⓛⓤⓝⓘⓣⓞⓞⓛⓢ ⓑⓤⓑⓑⓛⓔⓢ
ₛᵤb ₛcᵣᵢₚₜ
S̶t̶r̶i̶k̶e̶ ̶T̶h̶r̶o̶u̶g̶h̶
S̷l̷a̷s̷h̷ ̷T̷h̷r̷o̷u̷g̷h̷
D̳o̳u̳b̳l̳e̳ ̳U̳n̳d̳e̳r̳l̳i̳n̳e̳
L⃣ u⃣ n⃣ i⃣ R⃣ o⃣ u⃣ n⃣ d⃣ S⃣ q⃣ u⃣ a⃣ r⃣ e⃣ s⃣
Why Use Perfect Font Generator?
1)

No Registration Needed

2)

It's Absolutely Free

3)

One Click Feature ( Just Copy & Paste )

4)

Easy Navigation

5)

Huge Collection of Font Styles

6)

You can use this fonts style on any social media platform ( Instagram, Facebook, WhatsApp, LinkedIn, Twitter,etc)