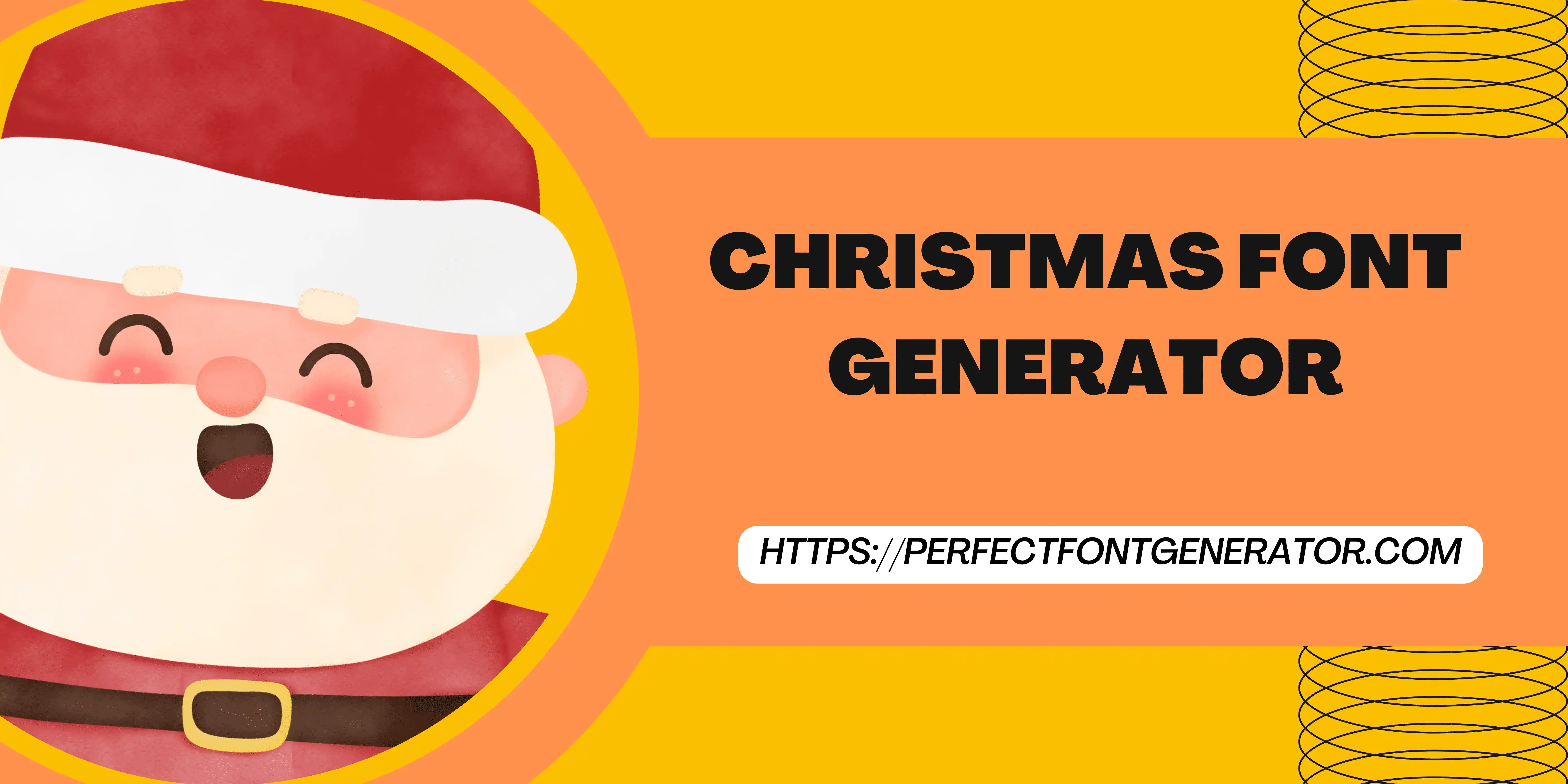 Christmas Font Generator: Transform Your Social Profile with Festive Fonts
With Christmas Font Generator, you can add a touch of holiday magic to your social media profile. With this powerful tool, you can easily convert regular fonts into fancy fonts, eye-catching styles that will make your Christmas-themed posts stand out. Let's explore the features and font options that await you!
Transform Your Social Media Profile On The Occasion of Christmas
Christmas is a time of joy, celebration, and spreading festive cheer. With our Christmas Text Generator, you can take your social media profile to the next level and immerse yourself in the holiday spirit. Whether you want to create captivating captions, personalized messages, or simply add a festive touch to your username, our tool has got you covered.
Use Cool Symbols, Icons, and Emojis for Merry Christmas Celebration
Enhance your Christmas-themed posts with an array of cool symbols, icons, and emojis that perfectly capture the essence of the season. From snowflakes and Christmas trees to Santa Claus and reindeer, you'll find a wide range of festive elements to complement your fancy fonts. Let your creativity shine as you spread joy and warmth through your social media feeds.
What Is the Unicode Standard?
The Unicode Standard is a universal character encoding system that represents various characters and symbols from different writing systems. Our Christmas Fancy Font Generator utilizes the power of Unicode encoding to ensure that the fancy fonts you generate are fully compatible with all websites and apps. No matter where you share your content, rest assured that your Christmas fonts will be displayed flawlessly.
Fancy Font Styles for Christmas
Explore our collection of fancy font styles designed specifically for the Christmas season. Here are some exciting options you can experiment with:
Old English Fonts: Embrace the traditional charm of the holiday season with Old English fonts. These elegant and sophisticated styles will transport your audience to a bygone era, evoking a sense of nostalgia and warmth.
Gothic Fonts: Add a touch of mystery and intrigue to your Christmas posts with Gothic fonts. These bold and distinctive styles exude an air of sophistication, making your messages captivating and unique.
Cursive Fonts: Capture the elegance and grace of handwritten script with cursive fonts. These flowing and artistic styles bring a personal touch to your Christmas greetings, creating a warm and inviting atmosphere.
Script Fonts: Infuse your messages with whimsy and playfulness using script fonts. With their curly, fluid lines, these fonts embody the joy and magic of the holiday season, making your content truly captivating.
Bold & Italic Fonts: Make a statement with bold fonts or add emphasis with italic fonts. These styles are perfect for highlighting key words or phrases in your Christmas-themed posts, allowing them to grab attention and leave a lasting impression.
Tiny Fonts: For a unique and eye-catching effect, try tiny fonts. These miniature-sized styles will make your text stand out, resembling the delicate nature of snowflakes and adding a touch of wonder to your social media content.
Bubbled Fonts: Inject a playful and lighthearted vibe into your Christmas-themed messages with bubbled fonts. These rounded and cheerful styles will bring a smile to your followers' faces, spreading the joy of the season.
Backward Font: Go against the norm and surprise your audience with backward fonts. Flipping your text around adds an element of surprise and intrigue, making your Christmas greetings truly memorable.
Square Font: Give your text a modern and geometric twist with square fonts. These clean and structured styles lend a contemporary touch to your Christmas-themed posts, capturing attention with their sleek appearance.
Christmas Font Generator for Instagram
Our Christmas Font Generator is the perfect tool to add a touch of holiday magic to your Instagram posts. Elevate your Instagram feed with festive fonts that reflect the joy and cheer of Christmas. With our generator, you can easily create eye-catching captions, captivating bio descriptions, or personalized messages for your followers. Simply generate the desired font using our tool, copy it, and paste it into your Instagram posts or profile. Watch as your Instagram account radiates the spirit of Christmas, captivating your audience with every scroll. Spread the holiday cheer on Instagram with our Font Generator and let your creativity shine this festive season!
Also Try: Stylish Font Generator for Instagram
Frequently Asked Questions
Can I copy and paste Christmas fonts into other applications or websites?
Absolutely! Once you've generated the perfect Christmas font using our Christmas Font Generator, you can easily copy and paste it into other applications or websites. Simply click on the "Copy" button for copying the desired fancy font.
What is a good christmas font?
When it comes to choosing a good Christmas font, it all depends on the ambiance and tone you want to convey. The ideal Christmas font should evoke feelings of joy, warmth, and holiday spirit. Some popular choices for Christmas fonts include:
"Jingle Bells" - This whimsical font captures the playful essence of the season with its curvy and fun letters.
"Candy Cane" - Reminiscent of the iconic holiday treat, this font features striped letters that add a touch of sweetness to your messages.
"Christmas Tree" - With its tree-shaped letters, this font is a perfect choice for adding a festive touch to your Christmas-themed designs.
"Gingerbread" - Inspired by the beloved holiday cookie, this font showcases charming gingerbread man-shaped letters that evoke feelings of nostalgia and coziness.
"Snowflakes" - This delicate and intricate font resembles the enchanting beauty of snowflakes, making it an excellent choice for wintery designs.
Why Use Perfect Font Generator?
1)

No Registration Needed

2)

It's Absolutely Free

3)

One Click Feature ( Just Copy & Paste )

4)

Easy Navigation

5)

Huge Collection of Font Styles

6)

You can use this fonts style on all website & apps