---
Explore other Font Generators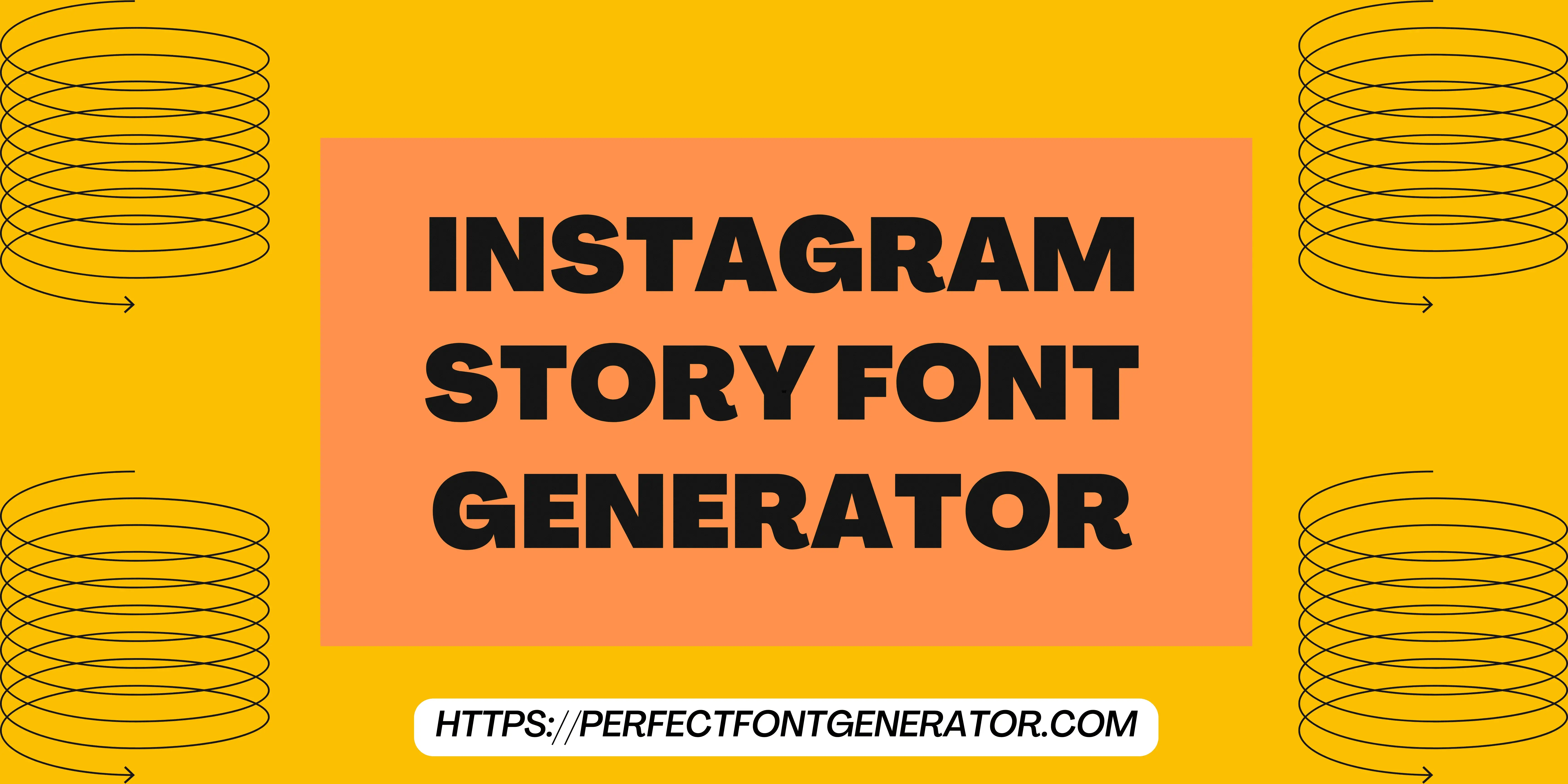 Fancy Font Generator for Instagram Story: Elevate Your Storytelling
With our Instagram Font Generator, the creative tool that transforms plain fonts into captivating, fancy ones, adorned with cool symbols and emojis. Enhance the visual appeal of your Instagram Stories and captivate your audience with stylish and unique text.
Cool Symbols, Emojis, and Icons
Dive into a world of creativity with our diverse collection of cool symbols, emojis, and icons. Whether you're sharing a moment, a quote, or a sneak peek, our tool allows you to add a personal touch to your Instagram Stories using visually striking symbols.
Copy & Paste
Effortlessly share your creatively styled Instagram Stories with the user-friendly "Copy" button. Paste the generated fancy text directly into your Story captions, making it seamless to infuse style and flair into every frame of your Stories.
How To Use Instagram Story Font Generator?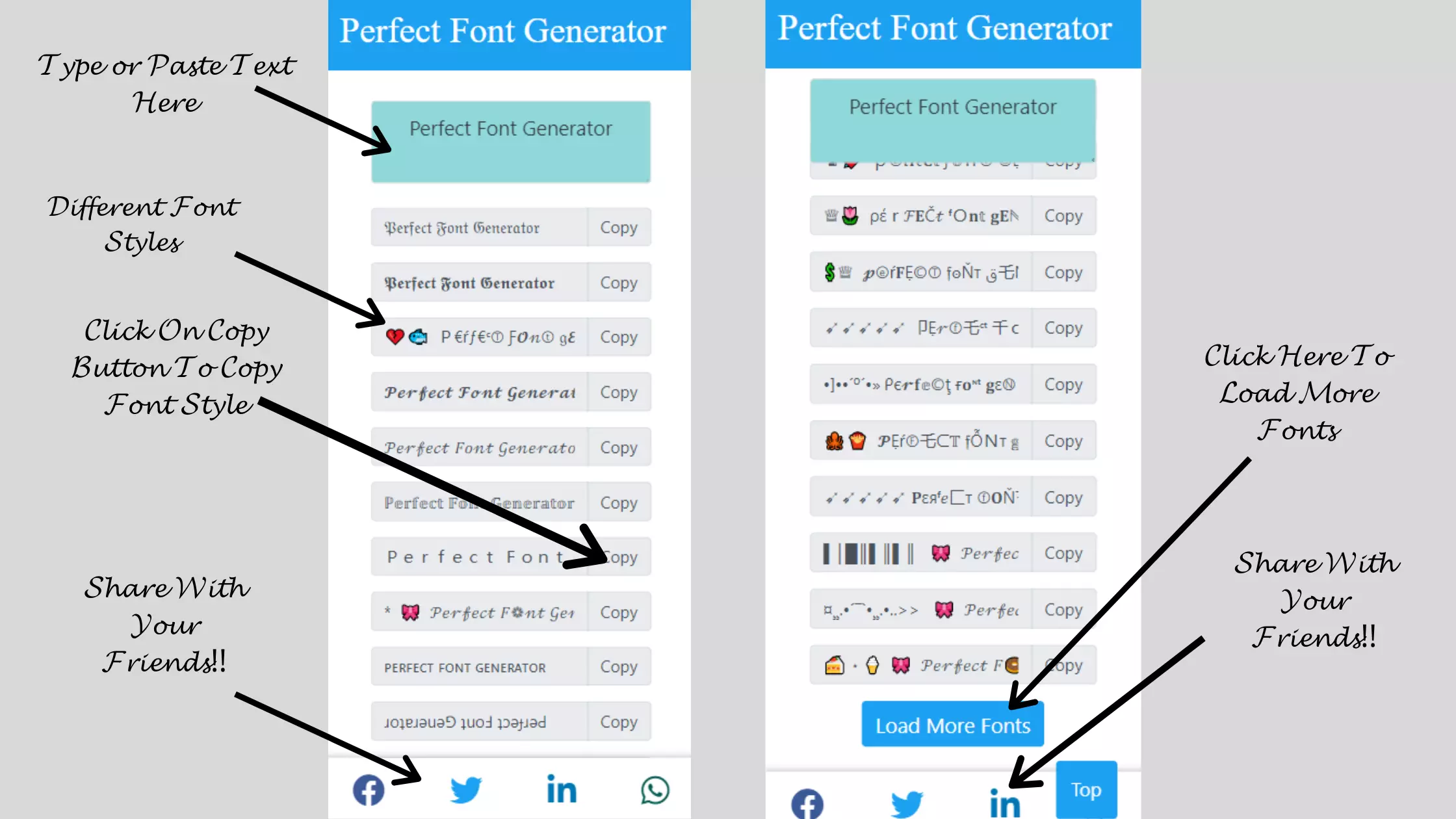 Step #1: Simply paste or type your text in the input box located at the top
Step #2: The font generator will automatically convert regular text into stylish text with cool symbols & cute emojis
Step #3: Now click on "Copy" button to copy the text
Step #4: Use this stylish text on your Instagram story
Step #5: Save changes on Instagram & share our tool with your friends!!
How to Make Your Story Stand Out?
Match Fonts with Story Vibe
Select fonts that complement the vibe of your Story. Whether it's a thrilling adventure, a heartfelt moment, or a humorous anecdote, matching fonts enhance the overall aesthetic.
Express Emotions with Fonts
Experiment with different fonts to convey specific emotions in your Stories. Playful fonts for joy, elegant fonts for nostalgia, and bold fonts for excitement can help express your intended mood.
Highlight Quotes with Style
If your Story features quotes, use captivating fonts to highlight key phrases. Experiment with different styles to emphasize the message and make it more shareable.
Create Visual Hierarchy
Enhance the visual hierarchy of your Stories by using different fonts for titles, subtitles, and body text. This creates a structured and visually appealing narrative.
Where Can I Use These Fancy Fonts on My Instagram Story?
Captions and Comments
Elevate the text in your captions and comments with fancy fonts, adding a stylish dimension to your Instagram Stories.
Quotes and Text Overlays
Make impactful quotes or overlay text on images using fancy fonts. This adds a creative and engaging touch to your visual storytelling.
Interactive Polls and Questions
Make interactive elements more visually appealing by using fancy fonts. Whether it's a poll, a question, or a quiz, choose fonts that encourage engagement.
Date and Location Tags
Customize date and location tags with unique fonts to add a personalized and stylish touch to your Instagram Stories.
FAQ ( Frequently Asked Questions )
Can I use fancy fonts for interactive elements like polls and questions in my Instagram Story?
Enhance the visual appeal of interactive elements by using fancy fonts. Choose styles that align with your Story theme for a cohesive look.
How can I use fancy fonts to create anticipation in my Instagram Stories?
Experiment with fonts that build anticipation, such as bold or unique styles. Combine them with symbols like exclamation marks to create excitement in your Stories.
Can I use fancy fonts for Story collaborations with other creators?
Add a creative touch to collaborative Stories by using fancy fonts in captions or text elements. Coordinate with collaborators to ensure a harmonious visual style.
Can I use fancy fonts for Story elements like swipe-up prompts and call-to-action buttons?
Customize swipe-up prompts and call-to-action buttons with fancy fonts to make them more visually appealing and aligned with your overall Story aesthetics.
How can I use fancy fonts to create a cohesive visual theme for my Instagram Stories?
Choose a consistent set of fonts, symbols, and emojis that align with your brand or personal style. Creating a cohesive visual theme enhances the overall aesthetic appeal of your Stories.
Are there any best practices for combining symbols and emojis with fancy fonts?
Experiment with balance. Use symbols and emojis sparingly to avoid clutter but enough to enhance your message. Ensure they complement the overall style and mood of your Story.
How can I choose the perfect fancy font for my Instagram Story?
Consider the theme, mood, and content of your Story. Experiment with different fonts until you find one that resonates with your narrative and enhances the overall visual appeal.
Can I use fancy fonts for Story highlights covers?
Customize your Story highlights covers with fancy fonts to maintain a consistent and visually appealing aesthetic across your entire Instagram profile.
Why Use Perfect Font Generator?
1)

No Registration Needed

2)

It's Absolutely Free

3)

One Click Feature ( Just Copy & Paste )

4)

Easy Navigation

5)

Huge Collection of Font Styles

6)

You can use this fonts style on all website & apps